HANDHELD & DESKTOP
3D SCANNING SOLUTIONS
Quickly and accurately capture 3D scans of your objects with ease
Artec 3D Scanners are lightweight, portable and easy to use, making them perfect for on-site scanning projects. Capture accurate object information quickly to streamline your design and engineering process. Whether you are a small business or large corporation, Artec 3D Scanners can help you save time and money while delivering high-quality results.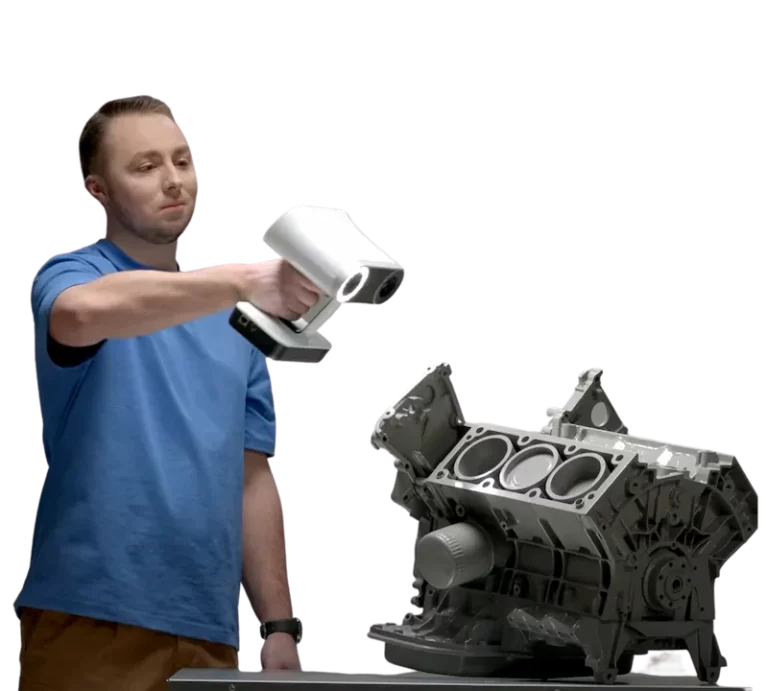 The award-winning Artec Leo 3D scanner enables fast, accurate, and high-quality data capture for projects large and small. Whether you need to scan a single part, an entire machine, a person or the room they're standing in, the Artec Leo offers versatility for a wide range of applications. It's fully mobile, wireless, and uses state-of-the-art hybrid geometry and texture tracking which enables smart data capture without the use of targets. Just point it at your object and hit the start button, and the scanner takes care of the rest.
ndustrial 3D scanner for engineers & CAD users
The Artec Space Spider is a professional-grade 3D scanner that delivers exceptional accuracy and detail for those who need to capture highly accurate 3D scans of objects or intricate details. It's able to render complex geometry, sharp edges and thin ribs, making it ideal for objects such as molding parts, PCBs, keys, coins or even a human ear. Whether your application is reverse engineering, quality control, or product design and manufacturing, the Artec Space Spider can be trusted for long-term repeatability in data capture, with high 3D point accuracy at 0.05 mm and a fast scanning speed of 7.5 FPS.
Artec Eva
Wireless and AI-driven
The Artec Eva 3D scanner uses structured-light to quickly capture textured and accurate 3D scans of medium-sized objects. It's precision, speed and ease-of-use make it suitable for rapid prototyping, quality control, and just about any industry or application that requires accurate textured scan data. The Artec Eva 3D scanner was even used to help make the first 3D portrait of an American president, Barack Obama.
TECHNICAL SPECS
Object Size: Starting from 10 mm
3D Reconstruction Rate: 16 FPS
3D Resolution: Up to 0.2 mm
3D Accuracy: Up to 0.1 mm
Output Formats: STL, OBJ, PLY and more
Weight of Scanner 0.9 kg
Artec Eva lite
Affordable professional 3D scanner
The Artec Eva Lite offers the same accuracy specs as the Artec Eva 3D Scanner, but with reduced functionality at a lower price point. The Artec Eva Lite has geometry-only tracking and capture, making it a great solution for making high quality textureless 3D scans of geometrically rich objects, such as the human body.
TECHNICAL SPECS
Volume Capture Zone: 61,000 cm3
3D Reconstruction Rate: Up to 16 FPS
3D Resolution: Up to 0.5 mm
3D Point Accuracy: Up to 0.1 mm
Output Formats: STL, OBJ, PLY and more
Weight of Scanner 0.9 kg
Artec Ray
Long-range laser 3D scanner for large objects
The Artec Ray is a high accuracy long-range 3D scanner that enables capture of large objects, such as large vehicles, ship propellers, wind turbines, buildings and airplanes, at a distance of up to 110m. Submillimeter accuracy means that it produces extremely high quality scans, and does so quickly and with minimal noise. The Artec Ray 3D scanner is ideal for reverse engineering and inspection applications.
TECHNICAL SPECS
Range: Up to 110m
Ranging Error: <0.7mm at 15m
Angular Accuracy: 25 arcseconds
Range Noise, 90% Reflectivity: 0.12mm at 15m
Range Noise, 10% Reflectivity: 0.3mm at 15m
Weight of Scanner Under 5kg
Artec MIcro
Ultra-high-precision industrial desktop 3D scanner for small parts
The Artec Micro 3D scanner is a fully automated desktop scanner ideal for small parts that require precision, like small machine parts, jewelry and dentistry. It offers point accuracy of up to 10 microns, which makes it perfect for quality testing and reverse engineering applications. The Artec Micro enables you to scan in seconds – just mount the object on the scanning platform and choose your smart scanning path and then watch the scan unfold.
TECHNICAL SPECS
Object Size: 90 x 60 x 60mm
3D Resolution: Up to 0.029 mm
3D Accuracy: Up to 10 microns (0.01mm)
Output Formats: STL, OBJ, PLY and more
Full Color Scanning: Yes
Target-free Scanning: Yes
Light Source: Blue LED
The right 3D scanning software is an essential tool for capturing and processing 3D data from Artec's line of 3D scanners. Their software is user-friendly and powerful, with some of the most advanced data capturing and processing algorithms on the market, enabling you to get the most out of your scanning projects. Artec 3D scanning software offers high precision, quick quality control, scan-to-CAD,CGI tools, and more.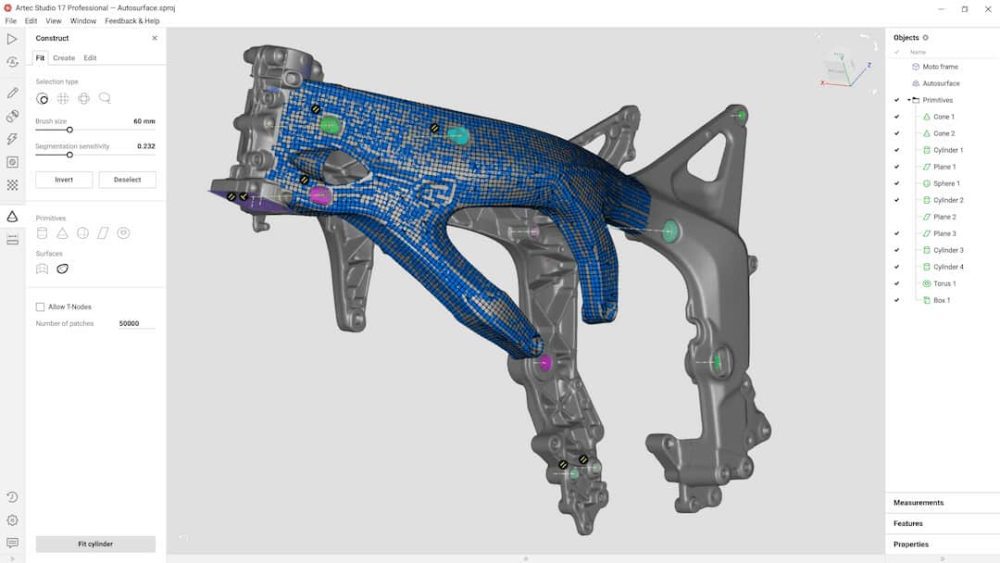 Scustomized solutions For your Educational Institute
CAD MicroSolutions believes that aligning Industry and Academia through meaningful partnerships will transform the learning experience and enable innovation in both instructors and students alike. Special pricing is available for Education & Research institutions.